SensiNet Gateways
Flexible, reliable and simple
Loading and maintaining system software cumbersome?
Sensor networks time comsuming and difficult to deploy?
Sensor data hard to integrate with other systems?
Need to start small and scale up over time?

Wireless Gateway
The SensiNet® Services Gateway is a powerful appliance based on the Intel® Atom ™ processor and provides network management, user interface, data logging, trending, alarming and communications without any complicated software to install. A standard browser and network connection is all that's required to access and configure the system. The GWAY-2100 also operates as stand-alone data logger with real time views, trending and e-mail alerts.
The SensiNet® Services Gateway model 2105 makes the most of your existing network architecture by supporting up to 5 remotely mounted SenseNet bridges. Locate sensors around a building, across a campus or around the world with a single point of integration. The GWAY-2105 has all the protocol and network support as the GWAY-2100. Remote bridges even have the ability to support hardwired sensors if an application only requires a few measurement points. This mix and match approach provides unsurpassed flexibility. See the BRDG-1221 data sheet for bridge details.
DATA SHEET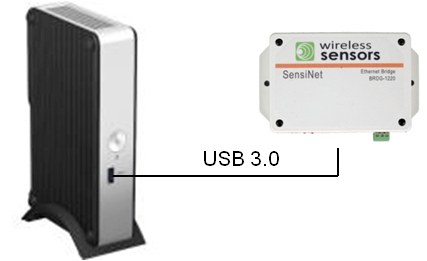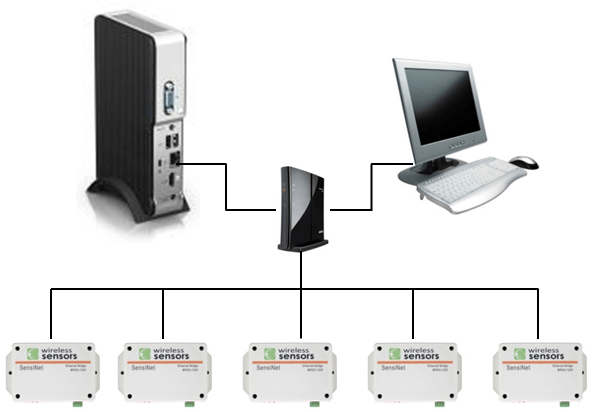 Wired Gateway
The GWAY-1100 makes the most of existing infrastructure by delivering sensor data over your existing Ethernet network and requires no extra software to operate. Simply plug in up to 24 sensors and view data with a standard browser or interface with back end system via SNMP. The GWAY-1100 is the perfect answer for small server rooms and network closets where a stand alone monitoring and alerting system is required. It compliments the SensiNet sensor family by sending data via HTTP POST to our cloud based data collection software where it can be combined with data from one or more wireless or Ethernet gateways.
DATA SHEET
Web Browser Interface
Included: Dashboard Data Reporting and visualization software for real time, historical and aggregate data reporting via a web browser for easy password/secure any where.
Adding nodes is easy. When a node powers up, it scans for available networks, locates either a gateway or router, and attempts to join it. If the gateway has the node in its list, the node joins the network, downloads the latest configuration from the gateway, and begins its normal operation of acquiring measurement data and controlling digital I/O.